Samsung bid for stay on injunction fails; Apple turned down by ITC for emergency ban on HTC devices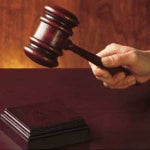 Last week,
Judge Lucy Koh granted Apple's request for an injunction on the Samsung GALAXY Tab 10.1
. Samsung, of course, decided to ask for a stay of the injunction
while it was appealing the original decision
. At the same time, the Korean based manufacturer listed a number of rulings that it took issue with. But the argument was all for naught as Judge Koh on Monday
refused Samsung's request for a stay on the injunction
. Judge Koh's decision is not the end of the line for Samsung as the latter's appeal with a federal appeals court in Washington, DC could also yield a stay of the injunction. The court has exclusive jurisdiction over IP matters.
has already been replaced with a sequel model
. From January through March of this year, Apple sold 13.6 million Apple iPads to control 63% of the market. During that same time period, Samsung sold 1.6 million tablets for a 7.5% share. For those legal eagles, the case in U.S. District Court, Northern District of California, is Apple Inc v. Samsung Electronics Co Ltd et al, 11-1846.
Meanwhile, Apple lost one in court as the
ITC refused to issue an emergency ban requested by Apple, against HTC devices
. Previously, an ITC exclusion order had blocked both the HTC One X and HTC EVO 4G LTE from entering the States temporarily. Apple wanted to
once again ban the two high-end models from entering the States
claiming that HTC made false statements in order to bypass the previous exclusion order. Yesterday, the ITC said it would continue to investigate to see if HTC's devices infringe on Apple patents, which would violate December's exclusion order. Until such a ruling is made by the ITC, HTC can continue to ship its top models into the states.
source:
Reuters
,
Bloomberg