Judge Lucy Koh to preside over second Apple-Samsung damages retrial which starts March 28th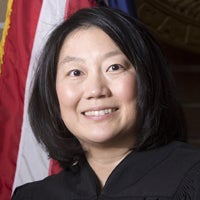 Samsung paid Apple $548 million last month to cover the whittled down damages originally awarded to Apple in 2012. However,
there is still the matter of $399 million in damages awarded to Apple that Samsung tried to get overturned on appeal. But Sammy's petition for a hearing en banc (heard by all judges who sit on the court's bench) was denied. The case was sent back to district court where the retrial will take place.
The court has requested that both rivals file a list of the witnesses that they plan on calling during the trial. The lists were turned into U.S. District Court for the Northern District of California on Friday. Judge Lucy Koh will once again preside over the trial. She has ordered a March 28th start to the proceedings, and has set aside eight days for the trial to run.
Apple's list indicates that former executive Scott Forstall could be called upon to testify in court. The one time iOS chief
appeared in court on Apple's behalf during the first patent suit damages retrial
. Forstall refused to take responsibility for the hot mess that was Apple Maps when it launched, even though it was his department that was in charge of delivering it. As a result, the executive was shown the door at Apple, and removed from the company's board.

Apple plans on calling to the stand some current Apple executives including VP of iPhone, iPod and iOS Product Marketing Greg Joswiak, and VP of Procurement Tony Blevins. SVP of Worldwide Marketing Phil Schiller ended up on the list of those who might be called as a witness. Samsung also has plans to call some of the past and present Apple executives as witnesses. The company also expects to call a number of its own executives and both sides plan on calling expert witnesses to testify.

Some of the animosity between the two tech giants has faded since the first damages retrial, especially since Samsung continues to be a major supplier of parts for Apple's iOS devices. Even so, the trial promises to be a media circus once again.

source: AppleInsider