Jobs' widow made sure Dicaprio and Bale didn't portray her husband on the silver screen
22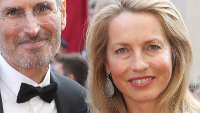 One by one they were rumored to play Steve Jobs in the upcoming biopic written by Aaron Sorkin.
Big A-list names like Leonardo DiCaprio
and
Christian Bale
were each allegedly getting the coveted role to portray the complex co-founder and CEO of Apple. But within days of each rumor came news that
they were not interested in the part
. According to those familiar with the situation, all of this was due to the back-stage workings of Laurene Jobs.
Someone referred to as a "key player" in the movie, told the
The
Hollywood Reporter
that Steve Jobs' widow did not want the picture to be made. This source claims that "Laurene Jobs called Leo DiCaprio and said, 'Don't do it.' Laurene Jobs called Christian Bale and said, 'Don't [do it].' " Representatives for both actors could not confirm this, but a Sony executive did admit that Laurene Jobs did not want the biopic to be made. This same executive says that it is his understanding that Jobs' widow did call one or two actors.
While Laurene Jobs, who married Steve back in 1991, is not portrayed in the film, she was apparently worried about how the movie would show her late husband's flaws. Since his death, there have been numerous projects that have focused on the negative side to his personality, showing him to be rude and demanding to employees. To combat that image,
Apple recently released a tape of Jobs speaking to Apple employees
on the eve of the original
Apple iPhone
unveiling.
Eventually, Michael Fassbender was given the role, and
Universal ended up making the film after Sony dropped out
. Those who have seen previews of "Steve Jobs" have given it high praise and some are picking the film to win the Academy Award for Best Picture. Others believe that Fassbender will earn at least a nomination for Best Actor for his portrayal of Jobs.
The film opens in New York and L.A. tomorrow, with nationwide distribution beginning on October 23rd.
source:
TheHollywoodReporter
via
NYPost