Christian Bale decides he shouldn't play Steve Jobs
32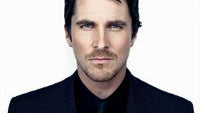 Sony Pictures studio just can't catch a break with its Steve Jobs biopic. The production has hit a number of delays, including having to basically start over with a
new director
. Now, word is coming out that the film's reported lead, Christian Bale, has decided that he shouldn't be playing Steve Jobs; so, producers have to once again go on the search for a lead actor.
According to
The Hollywood Reporter
, Bale decided that he wasn't the right actor for the role. Bale was first offered the role after Leonardo DiCaprio dropped out of the film. Director Danny Boyle is said to be meeting with actors throughout this week to discuss the lead. Matt Damon, Ben Affleck, and Bradley Cooper have all been rumored for the role in the past, but it is unclear if Boyle will be meeting with any of them this week. This Jobs biopic was scheduled to start filming this winter, but that seems highly unlikely now.
It was recently reported that
Seth Rogen
is in discussions for the role of Apple co-founder Steve Wozniak, but no formal offer has been made. Jessica Chastain has also been rumored for a role in the film, but it isn't known who she would play. Eventually all of this will get sorted out, but anyone hoping for this Jobs biopic better not hold their breath.