Jelly Bean flavored CyanogenMod 10 alpha released for 2011 Sony Ericsson Xperia smartphones
7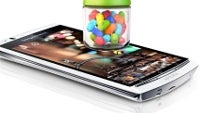 Will the
2011 Sony Ericsson Xperia lineup ever get a Jelly Bean update
? Perhaps it will, perhaps it won't. It all depends on whether Sony can make the software work smoothly on its smartphones from yesteryear. In the meantime, however, there's a whole variety of custom Android 4.1 ROMs based on CyanogenMod, available for download from the
XDA Developers
forum.
These
custom CyanogenMod 10 ROMs for 2011 Xperia smartphones
are still at their alpha stage, meaning that they are likely buggy, unstable, and/or incomplete. Therefore, flashing them it is not advisable unless you really know what you are doing. You should also be familiar with what rooting is and how it is performed, but most importantly, you should keep in mind that installing a third-party ROM voids your handset's warranty.
On the other hand, if Sony decides to not release a Jelly Bean update for the 2011 Xperias, then turning to the XDA developers community could be your only option to get Jelly Bean onto your handset. That said, perhaps you should keep an eye on the forum thread for your device, link to which should be available below.