Sony refutes the claim that its 2011 phones are not getting Jelly Bean
18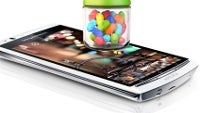 That
Sony spokesperson who said that the 2011 crop of Android devices
, like the popular
Sony Ericsson Xperia arc
, won't be upgraded to Android 4.1 Jelly Bean, was seemingly not authorized to speak by the mothership.
Either that, or Sony's management read the backlash under news articles and in forum threads against the whole premise, and decided to calm down the spirits. In any case, the company is still in the process of evaluating the timeframe for JB, and older phones are seemingly still in the mix:
During a Q&A session last week on our Sony Mobile GB Facebook page, a local spokesperson gave information out in error on our Android 4.1 Jelly Bean software development and rollout for 2011 Xperia smartphones.

We are actively investigating Android OS upgrades for all devices, but in the meantime, our Ice Cream Sandwich rollout for Xperia S and 2011 Xperia smartphones continues as planned.
"Yay for misspeaking, there's still hope!", said the trusty Xperia arc in your pocket, and arched its back further so you can scratch and pet it with delight.