Japan's app market opens up to foreigners, thanks to the iPhone
16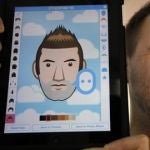 Japan has long been considered an insular market. Developers and manufacturers alike have refrained from competing there, largely due to Japan's resistance to foreign technologies. This insularity has earned Japan the nickname of "Galapagos" in the tech industry, as their market has evolved separately from the rest of the world.
All that is changing, thanks in large part to the
iPhone
. Since its adoption by the Japanese carrier
Softbank Corp.
, the iPhone has experienced record sales, moving 14.1 million units in the last quarter alone. That makes Japan one of the largest iPhone markets, among the 70 million units sold outside the U.S.
Japan is already a fertile market for app sales, as it is a culture that has long since become comfortable with paying for apps. App developer Hawken King has already experienced success in Japanese app development. His "Facemakr" app for the
iPhone
allows the user to swipe through countless facial features, and create a remarkably accurate avatar. The app has gained the majority of its success in the U.S., but a third of his sales have been in Japan.
Larger developers like Foursquare are also moving in to the
Japanese
market. Erin Gleason, a Foursquare spokesperson, said the following: "We will be focusing on internationalization in the next couple of quarters, and we feel that Japan is an important market for us." Rovio released a Japanese version of
"Angry Birds,"
which is currently the #6 most downloaded iPhone app in Japan, and is expected to move to #1.
The new commonality between devices has also led Japanese
companies
to attempt expansion beyond their borders.
Sharp Corp.
is developing their own
Android
devices for the global market, cleverly named "Galapagos" to signal their attempt to move past the insularity of Japan's marketplace.
Developers for both Android and iOS would do well to start adapting their apps for the Japanese market. As Japan's mobile market is 16%
smartphones
, and is rapidly adopting Android devices and iPhones, it is a market ripe for new investment.
source:
Yahoo! News