J.P. Morgan: Sales of 6th gen Apple iPhone could boost Q4 GNP by .5%
9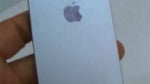 Could something like a smartphone help boost the United States' economy? According to Wall Street powerhouse J.P. Morgan, strong sales of the 6th generation of the Apple iPhone
could boost Q4 annualized GNP in the U.S. by .25 to .50 percentage points
. The GNP measures the total amount of goods and services produced inside a country. J.P. Morgan's chief U.S. economist Michael Feroli expects Apple to sell 8 million units of its new smartphone in the quarter. That does not include sales of other models, including the Apple iPhone 4S, the most recent version of Apple's phone.
"Thus, calculated using the so-called retail control method, sales of iPhone 5 could boost Q4 GDP by $3.2 billion, or $12.8 billion at an annual rate.This would boost annualized GDP growth in Q4 by 0.33%-point."-Michael Feroli, J.P. Morgan chief U.S. economist
Feroli figures a retail price of $600 and subtracts $200 of imported parts to come up with a trade margin of $400 for Apple. The result would be an additional $3.2 billion worth of sales or $12.8 billion on an annualized basis. That would add .33% to GNP. Even though end-users might pay less due to carrier subsidies, those selling the phone usually base reported sales on unsubsidized prices.
The economist himself says that this computation should be looked at skeptically as it does provide for a
rather substantial increase in GNP
. But he did point out that last October's launch of the
Apple iPhone 4S
led to a
combined sales total for all Apple iPhone models of 37 million in last year's fourth quarter
. That led to an improvement of .1% to .2% in last year's annualized Q4 GNP. Feroli says that he expects the launch of the
Apple iPhone 5
will be larger than that for the Apple iPhone 4S and said that the .33% increase in GNP is definitely within reach.
source:
AppleInsider