It's not really the internet without cats: Lumia fan wins #SMWCreative contest with a cute little video shot with a Lumia 930
5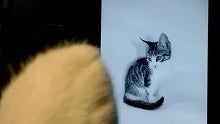 Contrary to what politicians or technologists would have us believe, it is a widely accepted notion that the internet was created to share pictures of our dinner, along with photos and videos of cats. Everything else is gravy.
Social Media Week kicked off today, and will be running all week in 11 cities, across 9 countries, then another 8 cities in as many countries next February.
There are roughly 2,000-ish events scheduled across the board. Microsoft is a major sponsor of the global event, and during the run up to Social Media Week, the organizers collaborated with Microsoft to invite people to participate in a contest featuring short-video and photo creations. Among the panel of judges was National Geographic photographer,
Steven Alvarez
, whose work
we have been enjoying
while he has been embarking on visiting
the seven natural wonders
of the world.
Mia Mullarkey of Dublin, Ireland won the #SMWCreative contest, judged among more than 700 entries, with a video filmed entirely with a Lumia 930, the topic focused on the Windows Phone, and of course, cats. For her efforts, she wins a trip to the SMW event in Los Angeles, California, a cash prize, and the opportunity to showcase her video to the attendees.
It seems like a cat video would be a little corny as a winning entry, and you are not alone in that assessment, Alvarez concedes the point,
"Winner! I hate to have a cat video be the winner, but I think the film maker is poking fun of the popularity of cat videos on the internet. Great production and story telling! Hilarious."
The Lumia flagships are quite adept at shooting video, and the
Lumia 930
is particularly well suited thanks also to its four HAAC microphones that capture audio in a surround sound fashion and are excellent in filtering unwanted elements in noisy environments. The optical image stabilization also earned
top marks in our review
in keeping shots nice and steady.
Throw in a beautiful 1080p display, competent 20-megapixel camera, Snapdragon 800 CPU, 2BG of RAM, 32GB of storage, Qi wireless charging, premium build quality, and the smooth operation of Windows Phone, and the Lumia 930 should definitely be on your list of devices to consider if you are in the market. If you want to know more about Social Media Week, check out the reference link below the video.
Just remember, it's all about the cats.
reference:
Social Media Week 2014