National Geographic uses a Nokia Lumia 1020 to get some truly amazing images
38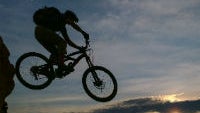 The Nokia Lumia 1020 has a fantastic camera. It's very hard for anyone to really dispute that point. It is one of, if not the best camera that you can find on a smartphone. However, as much as Nokia would like us all to focus on the camera, many users still can't get past the idea of using Windows Phone (though it is a solid mobile OS) in order to get at said camera. Still, that isn't stopping Nokia from advertising nothing put the camera.
The latest ad for the Lumia 1020 camera comes in the form of a partnership with National Geographic, during which Nat Geo photographer Stephen Alvarez took the 1020 for a tour of the southwestern U.S. and used it as his primary camera. Alvarez undeniably got some amazing photos with the 1020, and the promo video about the trip was also completely shot on a 1020. The original story, not surprisingly, has some pretty glowing quotes from Alvarez about the device, like this one:
Since the Nokia Lumia 1020 is so small and light I can actually compose shots from some pretty crazy positions. I find myself being much more creative with this little phone than I might be with my DSLR.
Of course, Alvarez is clear that he wouldn't replace his DSLR with the Lumia 1020, but the device does seem to get closer to professional grade than you might expect. Alvarez said that he was even able to make 22-inch prints from Lumia 1020 photos that look as good as a DSLR shot. Check out the source, because what a professional photographer can do with this device is quite amazing.