Nokia shares some fantastic photo and video work of National Geographic photographer Stephen Alvarez
46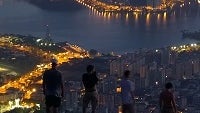 Nokia has teamed up with National Geographic to visit the seven natural wonders of the world. Several months ago,
we shared the amazing pictures of National Geographic photographer Stephan Alvarez
, and his impressions of the Nokia Lumia 1020 while he visited the Grand Canyon.
His next stop, this time armed with a
Nokia Lumia 1020
and a
Lumia 1520
, was Rio de Janeiro, Brazil, one of the most picturesque cities in the world, and certainly among the primary images one has when thinking of Brazil or South America.
Rio is known for being a city between the mountains and the sea, and the Harbor of Rio de Janeiro is the centerpiece. That is what Alvarez captured with his two Lumias, providing stunning results. Alvarez is a professional photographer who is accustomed to working with DSLRs that are essentially the space shuttles of the picture taking world.
However, Nokia has turned many of those perceptions on their head, and Alvarez has high praise for the quality of the two devices. Of particular note during his visit to Rio, Alvarez is amazed that he was able to capture lightning with a smartphone. He credited the speed of the Lumia 1520 and a little bit of luck (something even needed when using a DSLR to capture lightning) for getting the image.
We have shared a few of the photos from the trip to Rio, but there are dozens more via the National Geographic source link. There are also two video uploads from Nokia. This latest installment of the Nokia and National Geographic journey took place in January. We are looking forward to seeing the remaining five wonders of the world, as there is no doubt Alvarez and the Nokia devices will capture some great images from Mount Everest, the Great Barrier Reef, the Paricutin Volcano, Aurora Borealis, and Victoria Falls.
sources:
Nokia
(YouTube) and
National Geographic