It's Elementry: Nokia Lumia 800 makes cameo on new Sherlock Holmes drama on CBS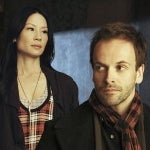 The last television series to show a modern day version of Sherlock Holmes was actually a medical drama.
House M.D.
creator David Shore admitted that the detective created by Sir Arthur Conan Doyle was the inspiration behind the crabby Doctor that fascinated television viewers in the U.S. for 8 seasons. Instead of being hooked on cocaine like Holmes was, House had an addiction to Vicodin. Watson was replaced by Dr. Wilson, and both characters shared the same street address and had a fondness for solving puzzles.
cameo appearance on the premiere episode
of the new show, which is entitled
Elementry
, was none other than the
Nokia Lumia 800
.
This was not one of those quick pans that have you wondering what phone is being used. No, this was a good 7 to 10 second look at the phone and Windows Phone 7.5 with a couple of swipes through the photo gallery. The phone did have to share some air time with an
Apple iPhone 4
or
4S
, but it was a
nice product placement
for Nokia.
You can check it out for yourself at sourcelink and the action starts at about the 8 minute mark. Obviously the Apple iPhone is used quite often on television (besides
Elementry,
check out the first 5-10 minutes of NBC's
Revolution
premiere), so we find it interesting when a different model is used.
source:
CBS
via
Engadget