It can cost almost as much to replace a Gear 2 or Gear Fit than to buy a new one
8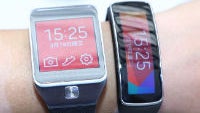 Before the official release, we saw the teardown of the Samsung Gear 2 and the Gear Fit. The Gear Fit had
some issues
with repairability, but the Gear 2 actually
scored extremely well
, which makes this story all the more strange. According to a report from Korea, it can cost almost as much to replace a broken Gear than to buy a new one.
According to
ZDNet Korea
, the problem begins with the fact it doesn't much matter if a device is easy to fix, if you can't buy the replacement parts to perform the fix yourself. Beyond this, it can be very difficult to replace the displays, because they are glued to the body of the wearables, and broken displays are one of the more common issues. This means that no matter what the problem is, users have to exchange their broken wearable for a new one; and, when they do an exchange, there is a substantial replacement fee.
If a buyer has to exchange a Gear 2, there is a fee of 250,000 won (~$240) for a replacement, which is quite a substantial cost considering that a brand new Gear 2 would cost 360,000 won (~$347). Similarly, if someone needs to exchange a Gear Fit, it would cost 177,000 won (~$170) to replace it compared to 247,000 won (~$238) to purchase a new one.