The Samsung Gear Fit torn down by iFixit for your pleasure, see what's inside the wearable
3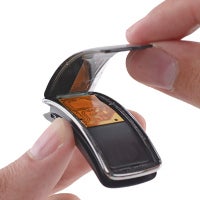 Shy of a week ago, we showed you
iFixit's disassembly of the Samsung Gear 2
- the smartwatch was given an impressive score of 8/10, a lot more than the
Galaxy S5's mediocre repairability
score of 5/10. Today, however, we are treated with yet another teardown of a Samsung device – the Gear Fit
fitness tracker
.
Unlike the Gear 2, the Gear Fit appears to be a little harder to tamper with - it is not assembled with screws, as Samsung opted to use adhesives in order to put the wearable together. Fortunately, the curved AMOLED display of the device is easily accessible, as it's the first thing that comes out when you open the Gear Fit. The encasing of the display holds both the battery and the mainframe of the
Samsung Gear
Fit. Alas, the curved battery is not as easily accessible as the one found in the Gear 2. In order to get to it, you'll need to disassemble the mainboard and pry it off of the wearable, which is a rather cumbersome task.
iFixit awards Samsung's fitness tracker with a repairability score of 6 out of 10 – lower than the Gear 2 smartwatch, yet a tad higher than the
Samsung Galaxy S5
. You can check out our review of the Gear Fit
here
.
Samsung Gear Fit teardown