Is the Android 4.2.2 update back on for some HTC One S models?
10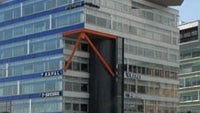 It wasn't so long ago when HTC France told owners of the
HTC One S
that
sorry, there will be no update to Android 4.2.2
for the phone. Those sporting the phone could have rioted, looted stores in major metropolitan cities, or shot spitballs through straws at those with a smartphone that received the update. Instead, deciding on the pacifist route,
a petition went up on Change.org, seeking a reversal of the decision
from the Taiwan based manufacturer.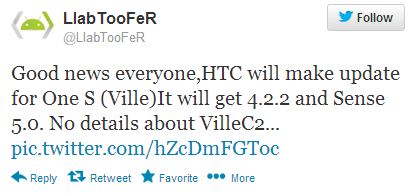 Tweet from HTC insider says that the S4 version of the HTC One S will be updated to Android 4.2.2 after all
So what did make HTC change its mind from its February pronouncement that the update was in the bag to eventually putting the kibosh on Android 4.2.2 for the HTC One S? A published report on Wednesday
blamed Qualcomm
for HTC's decision. The report noted that the HTC One S has two different versions. One version for Europe, the Middle East and the Americas, is powered by the Qualcomm Snapdragon S3 while the other variant has the Qualcomm Snapdragon S4 under the hood. The silicon slinger decided to drop software support for the S3 which left HTC in a quandry. The company could spend the big bucks to update the S3 drivers, or cancel the update for both S3 and S4 models.
While we know the rest of the story, it turns out that there could be a revision to the ending. A tweet from HTC insider @LlabTooFer says that HTC has decided to go ahead and update the HTC One S model powered by the Qualcomm Snapdragon S4, to Android 4.2.2 after all. This will also include the update for Sense 5.0. There is no word on whether the S3 version will also be updated.
source:
@LlabTooFer
via
AndroidAndMe