Is Vivo making an S7 edge-like phone? Alleged Vivo Xplay 5 promo pictures leak
23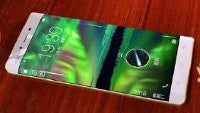 Up until now, seeing a smartphone with a curved display is a rare thing. Samsung, the manufacturer who first introduced the concept with the
Galaxy Note Edge
, is still pretty much the only one churning out curvy handsets on a regular basis, and there's the
BlackBerry Priv
, of course.
Well, remember Vivo? It's a company that hails from China and was hitting headlines worldwide when it introduced the
X5Max
– the handset that held the crown for
thinnest smartphone in the world
, if
only for a little while
. Not to be confused with
BLU's line of Vivo handsets
, which are also pretty thin, but are actually US-only rebrands of models built by one of Vivo's fellow countryman competitors – Gionee.
But we digress. Vivo has a new smartphone in the works, called the Xplay 5. The handset is notable for rumors that claim it would have
6 GB of LPDDR4 RAM
under its hood, which could potentially make it the first smartphone to break the current max of 4 GB seen on contemporary flagships. The Xplay 5 is also expected to be powered by Qualcomm's latest-and-greatest Snapdragon 820 SoC, which looks very, very promising so far.
So, a new leak, posted on Chinese social media Weibo, claims to reveal marketing images for the Vivo Xplay 5. They show the smartphone in its full glory – front, side, and back, and what's noteworthy here is that it's a dual-curve handset, just like the Samsung
Galaxy S7
. There is absolutely no word on edge panels or any sort of software functionality that would make use of the curves, but we'd hope that, if these rumors are all true, Vivo would exploit the curves for some nice multitasking features. Otherwise, it would be a waste of a good 6 GB of RAM.
The leak also reaffirms previous rumors that the display would have a 1440 x 2560 resolution, and claims that it will be rather large, with a 6-inch diagonal. Well, if Vivo manages to get the screen-to-body ratio of the Xplay 5 to match the one of Samsung's
Galaxy S7 edge
, the thin bezels may still make the phablet manageable.