Is AT&T's network problem partly the fault of the iPhone's radio?
19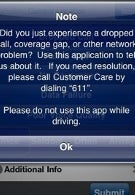 While everyone has been so quick to jump all over AT&T's 3G network for problems iPhone users have had, now that O2 users are experiencing the same list of complaints, a possible explanation is brewing that deals with the handset's radio. Users have complained about dropped calls and the difficulty in making 3G data connections. Part of the problem could be how the radio on the iPhone works. On a cellphone, data is sent back and forth in short bursts. When there is no data to transfer, some devices maintain the data connection with use of an idling state. But that kills battery life. So what Apple did was to break off the connection once data was received; when the iPhone needs more data, it reopens the data connection. This helps increase the life of the battery, but also makes it difficult to set up the required signaling channel to set up another data connection. When enough iPhones are in a given area and they all are trying to set up a signaling channel, things become overloaded and the connection can not be made. Still, this is not limited to the iPhone. Android and webOS phones also use this method. In fact, most of the newer smartphones that have been the reason for the explosive growth in sales in the past year, use this same method.
One person explained why European networks are not having the problems seen by AT&T and O2. His reply was that because signaling channels are used for Text messages and data, and because Europeans were heavily into both way before the U.S., the overseas pipelines are built up and can better withstand all of the traffic. A solution to the problem would be to utilize equipment that would be configured to dynamically handle signaling traffic and shift more spectrum to signaling channels when needed. AT&T said it will be adding 2,000 cell towers this year and has already started making other improvements to its infrastructure. O2 is requesting that its vendors configure equipment to handle the increased need to move data
Even with all this traffic, AT&T is confident that it can handle the ever increasing number of iPhones and the new iPad when that device comes online later this year. Apple COO Tim Cook says about AT&T's goal to fix its network, "We have personally reviewed these plans and we have very highconfidence that they will make significant progress towards fixingthem."
Apple iPhone 3GS Specifications
|
Review
source:
arstechnica
via
iclarified
,
EngadgetMobile