Investors suggest RIM should seek radical change in top management
17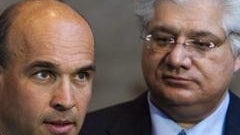 RIM's BlackBerry World passed nearly a month ago in Orlando, Florida, but reverberations from the forum still sound off. Investors in the Canadian phone maker are growing more and more concerned about the future of the company and talks about
radical change in the top management
tier of the company start to gain popularity, according to a report by Reuters. Just recently, we reported about a
class-action lawsuit against RIM
after investors felt misled by overly optimistic prognosis by the phone maker.
Investors see that change coming only after none other but the
co-CEOs
of the company step down:
"These guys are very emotionally invested, taxed for time, and feel the pressure of being left behind and seeing your market fade away," said an investor supportive of the possible change.
RIM founder Mike Lazaridis has been in the company since day one, and co-CEO Jim Balsillie joined the Canadian company shortly after Lazaridis, but this might be the exact reason behind the slow pace at which 'Berries enter the smartphone world. To add to the heat, investors cast a
vote of no confidence
on RIM's product strategy including products like the BlackBerry PlayBook and new 'Berries on Friday.
The company has been staging attempts to transition its lineup to a QNX-based platform, which should bring contemporary looks and feel to BlackBerries. "It's a super-exciting transition. And it's got legs to sustain us really indefinitely," Balsillie defended the company's current plans. But even with those plans, investors have criticized the fact the timing of QNX-based devices has been announced nearly a year before they hit mass market, which would negatively impact sales of the company's current lineup.
Missteps like this one, have prompted analysts and investors to openly speak about a change. "They're stuck in the past. They know what worked and keep playing that card and it's not working any more, and they don't seem to have any ideas," Charter Equity analyst Ed Snyder stressed. But with
capitalization
of the Canadians reaching some
$23 billion
, analysts estimate that it will take not less than an investment of $1 billion to spur debate over such a change. Do you think that it's a change of chief executives that would help the company regain its past glory? Let us know your opinion in the comments below.
source:
Reuters
Recommended Stories