Shareholders file a class-action lawsuit against RIM
12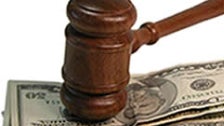 It's
all about lawsuits these days
, and RIM was beginning to feel a bit left out. Not any more - misleading financial projections is the reason behind a class-action lawsuit filed against RIM by some of its shareholders. Those of them who purchased the company's stock in the period, mentioned in the lawsuit, want compensation.
We were poring through financial statements of the top mobile manufacturers recently for a research, and noticed that at one point RIM just says they will no longer include the ASP (Average Selling Price) metric in the quarterly releases. RIM's average selling price has long been second only to Apple, considering the outdated hardware sold at top-shelf prices.
Reluctance to continue disclosing it may mean only one thing - it is heading down in the next quarters, and RIM is perfectly aware of that, while it goes through a transitional period. Well, shareholders are obviously not very kosher with insufficient financial information disclosures, and that's why they are charging ahead with the class-action. Such lawsuits are a dime a dozen, but we are curious if this will affect RIM's quarterly reports in the months to come. The Canadian company denies any wrongdoing, of course, not to mention that its lawyers have the word "projections" on their side.
via
IntoMobile
Recommended Stories