Intel working with Google on Android tablets, 32nm Cloverview chipset in the pipeline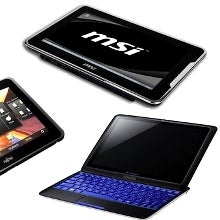 Intel is definitely left out in the cold to snivel watching the mobile revolution unveiling in front of its very eyes. First Microsoft abandoned it to
diversify into ARM-based chipsets
, which fit mighty power in a small power-sipping form factor, then
Nokia dealt a blow
, ditching its MeeGo devotion.
What's the world's largest computer chip manufacturer to do but pick itself up, dust itself off, and start addressing the realities. The mobile Atom family will start gracing tablets in its Oak Trail reincarnation as soon as this summer, and Intel's marketing director said the other day that the company will bring Android 3.0 Honeycomb compatibility to Atom officially. Take that, Microsoft! Google also doesn't mind hedging its bets, since Andy Rubin
said the other day
the Android team is supportive of putting Google's mobile OS on as many device form factors and processor architectures, as possible.
We already saw at CES in January
$600 Oak Trail tablets
from indie manufacturers, running the Windows 7, Android and MeeGo trifecta, and that's exactly what's in store for this summer. The developers claimed 6-8 hours of battery life in Windows mode, which is not iPad 2 class, but still leaps and bounds better than what we had with Atom-powered tablets until now, and you have a full-blown OS. The battery life when running Android, however, is claimed to be the astounding
sixteen hours
on such Oak Trail tablets, so that's something to keep an eye on.
Oak Trail is still sporting the old PowerVR SGX535 graphics subsystem, that was in the first iPad, tweaked to deliver Full HD video playback, so even with Oak Trail Intel will still be trailing the dual-core iOS and Honeycomb tablets in horsepower. We wouldn't underestimate the manufacturing prowess of Intel, though, and the chip giant said it plans to produce its next tablet chipset, codenamed Cloverview, with the
32nm process
(today's dual-core chipsets are done with 45nm manufacturing), which will mean even more power in a smaller footprint at lower battery consumption.
source:
PCWorld