Andy Rubin heads to the Android Developer's blog to discuss the latest about Android
3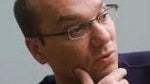 With a fatherly pride, Google VP of Engineering Andy Rubin penned some comments for the Android Developers Blog about the present and future of the Android OS. Rubin said that while manufacturers are free to make changes to Android to accommodate any "range of features", it is important to remember that, "Quality and consistency continue to be top priorities."
Rubin added that while Google does allow phones to be marketed as being compatible with Android, or having Google applications on board, there are a series of requirements that must be adhered to. Rubin also alluded to an "anti-fragmentation" program that has been in place since Android 1.0. He wrote that all members of the open Handset Alliance promised not to fragment the OS when it was first announced back in 2007.
Rubin added that currently, team members are working at bringing the Honeycomb features to Android handsets. When completed, the code will be published as Rubin stressed that Android remains an open source system.
If you have some time, go to the source link and check out Rubin's complete article. The piece gives you an idea of where Android stands and where it is going in the future.
source:
AndroidDevelopersBlog