Microsoft to reveal plans for an ARMed tablet version of Windows at CES
4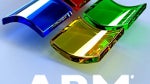 Two trusted sources at Microsoft have confirmed for Bloomberg that the company is actually developing a new version of Windows that will
work on ARM-based chipsets
, not only on Intel or AMD ones. The new Windows will be announced at
CES
in two weeks - it might have something to do with
Windows 8 being demoed
on a tablet device there.
This is actually great news for us regular users, as we can finally have a full-fledged operating system on a tablet with the power-sipping architecture of an ARM device. Not having to worry about compatibility or do the "Will it play?" game sounds great, and we have no doubts that the ARM architecture now allows for powerful chipsets that give your device a full day of uptime, but still the future software (or should we say apps) for this new Windows platform will have to be optimized for touch as well, if they are going to be used on tablets.
Back in the summer Microsoft signed up
a licensing agreement with ARM Holdings
, which everyone thought was to help development for its upcoming Windows Phone 7 mobile OS. Only a few companies have such an agreement - notably Qualcomm, Marvel and Infineon, and these companies all produce chips.
It turns out, however, that Microsoft had this even more devious, or, should we see, common sense plan for its future. The old fox from Redmond knows that it missed the train with smartphones (so did the traditional cell phone companies like Nokia, but we digress), and it might miss the tablet revolution, given the quality of its current offerings. And it is mainly because Microsoft is stuck in the Wintel mentality that slaps a non-optimized for touch interaction OS like Windows, on a power-hungry chipset like Intel's Atom, that gives up the ghost after barely watching a movie.
This would be a typical Microsoft move - leave the trailblazers invent a market and pave the way, then swoop in with your warchest full to the brim with billions of dollars and engineering talent, and catch up within a year or so, without giving it much thought, just adapting your bread-and-butter Windows franchise. Analysts estimate that with such a move Microsoft might catch
ten to twenty percent of the 50 million tablets
expected to ship next year, and become a serious player overnight. Well, we wouldn't be so sure, since this tablet- and ARM-friendly version probably won't show up until 2012, when Windows 8 is scheduled for release. ARM's shares climbed 6.6% yesterday on this leaked news.
What, Google and Apple thought that Microsoft will just go into the corner and slowly fade away? Not even close, and we are jumping with joy just thinking what amazing devices the competition among these three giants is going to bring us in the next few years.
source:
Bloomberg
via
SlashGear
Recommended Stories