Chip giant patents its own foldable phone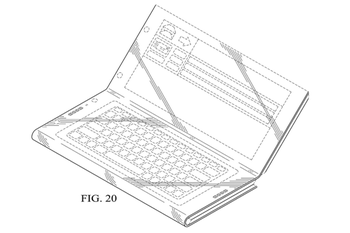 This year, we should see a number of large manufacturers bring out foldable smartphones, starting with the Samsung Galaxy F next month. Huawei 's foldable device is expected to support 5G, and
Xiaomi recently showed off a foldable phone
that bends from the top and bottom. Eventually, most manufacturers will be pushing out similar models; once pricing drops, the foldable form factor could bring some new life into the smartphone industry.
One company that you wouldn't expect to be looking at hardware is chip maker Intel. Back in 2017,
Intel was awarded a patent by the USPTO
(via
Lets Go Digital
). Titled
Electronic Device With Foldable Display Panels
, the images found in the patent reveal a device that opens up with hinges around a center display. The latter is flanked on both sides by screens that are the same size, turning the unit into a tablet when fully opened.
One clever image in the patent mirrors something that we saw in patents published last year related to Microsoft's folding Project Andromeda device, which officially was put on hold last summer. In this set-up, one panel is opened up in landscape mode with the middle panel resting on top of the other "outside panel." This turns the foldable device into a small laptop with the center display used as a virtual QWERTY keyboard (see image at the top of this article). Also note that Intel shows a stylus pen for the device fitting into an opening at the bottom of the device in its closed position.
While we don't expect Intel to start manufacturing a foldable phone anytime soon, the patent could help it generate some chip orders from other firms looking to produce a foldable mobile device.
Renders produced by Lets Go Digital imagine the device in the Intel patent running Windows 10. Check them out in the slideshow below along with images from the patent.