Innocent bystanders get pranked with fake iPhone 6
31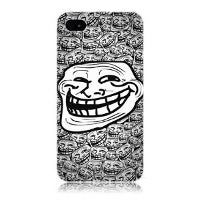 Apple may have not even announced the iPhone 6 yet, but there have been quite enough leaks so far, so that knockoff manufacturers could get to work on a couple of
replicas
already. Of course, their hardware is barely something to write home about and their functionality is more than likely to cause the user to throw the phone off a cliff, however that does not mean they are completely useless.
YouTuber Jonathan Morrison recently acquired one such replica, solely to scratch his tech-curious itch, and after playing around with it, decided it would be fun to take it out on the street and show it to random strangers, before he dumps it in the "forget-and-never-use-again" bin.
In the video, you can see Morrison pranking various people, making them believe that the phone they are holding in their hands is the yet unreleased iPhone 6. Then asks them how they like the speed, the incredible resolution (8k, he calls it), and even talks about a 3D effect that can be seen if the user squints.
Of course, the video is most probably edited in order to achieve the best comic effect, so enjoying it without judgement is the best way to proceed.
source:
Mac Rumors