In search of the perfect Google Nexus smartphone: 6 great concept designs
33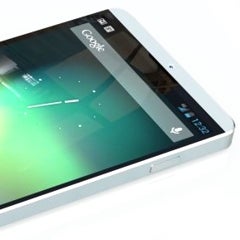 Google's Nexus family of smartphones has come a long way since the HTC-made
Nexus One
from early 2010. The latest in the series is the
Nexus 6
, which, with its 6-inch display, seems to be
too big for some users
, thus being somewhat of a disappointment for them. In a way, the Nexus 6 isn't a successor to the
Nexus 5
, but the first in a new breed of Google smartphones: extra-large ones.
While there's no way of telling if Google will go back to releasing smaller Nexus handsets, we assume that many Android fans would want that. Until next year, when Google should introduce its seventh smartphone and we'll be able to see what that's all about, we can only dream about a perfect Nexus. With that in mind, we've put together a collection of Nexus concept designs - some of the best made in the last years. Let's take a look, shall we? Who knows, maybe bits and pieces of them will make it into real Nexus models someday.
Google Nexus P3
Physical QWERTY keyboards seem to be a thing of the past, but wouldn't a Nexus handset with such a keyboard be interesting? Meet the
Nexus P3
, a concept that has a QWERTY keyboard which can be removed and replaced with a gamepad, or an extended battery. Zoom in to see all the details:

Will Sony ever manufacture a Google Nexus handset? We don't know, but at least we can take a look at this Sony Xperia Nexus from conceptland. This smartphone would be a beast in the real world, as its imaginary features include a 5.2-inch display with 1440 x 2560 pixels (Quad HD), a Snapdragon 810 processor, 21 MP rear camera, 8 MP front-facing camera, 4GB of RAM, and a 4000 mAh battery.
Google Motorola X Phone
This concept design dates from last year, and depicts a 4.7-inch Motorola-made "Google X Phone". The design certainly isn't in line with what Motorola would create, but that doesn't mean it's not appealing. Obviously, that PureView camera seen on the back is a dream that will never come true (since Microsoft exclusively owns the rights to use the PureView technology).
Sony Nexus Compact
If 6-inch, 5-inch, or 4.7-inch displays are all too large for you, you'd probably love this Sony Nexus Compact concept, which proposes a 4.3-inch screen with 1080 x 1920 pixels and a 512 ppi density. A dedicated camera button and a 6.7mm-thin water-resistant body are also among its features.
Motorola Nexus Plus
Here's another Motorola Nexus concept, this time called
Nexus Plus (or Nexus+)
. With a 5-inch 1080p display, dual front-facing speakers, and an 8.5mm-thin body built around a magnesium frame, this looks like a Nexus 5 from a parallel universe - one where Google had chosen Motorola instead of LG to make the fifth iteration of its smartphone.
HTC Nexus 6
The designer of this HTC Nexus 6 concept didn't provide any features for it. Even so, it's clear that the device should be a relatively large one, offering dual front-facing speakers, and thin bezels. The handset looks like a simpler variant of HTC's One (M8) - and that's a good thing.
Now that you've seen all the concepts, which one's your favorite? Do you think any of them could be
the
perfect Nexus phone? Let us know in the comments below!