Impatient? Here's how you can grab the Google Play app if it isn't showing up yet
6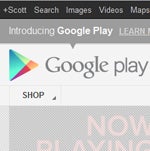 Google's
rebranding
of their online and mobile offerings into Google Play may
herald several important changes
in their strategy, with this being yet another salvo in CEO Larry Page's attempt to change Google's assortment of unconnected offerings into "a single unified, beautiful product across everything".
In an impressive show of coordination, updated versions of the Google Music, Google Movies, and Google Books apps (now rebranded with the "Play" moniker) began rolling out just minutes after the original announcement. That was soon followed by reports of the Market app itself getting updated to the Play Store.
If you have already received the music and movie app updates and are antsy to get the new store update, here's a simple trick that seems to work on a wide range of devices: Go to your menu settings -> Apps -> select "All Apps" and scroll to the Market app. Click on it and then the app data and the app cache. Don't worry; you won't lose any of your installed or purchased apps! The next time you head over to the Android Market app you should be prompted to accept the terms of service for the new Play Store, and the app will download and install.
If it doesn't work straight off we recommend a second shot at clearing the data, but some users fond that tapping on store link from within Play Music also got the new app to install. As a last resort, you can also find a link to an apk file you can sideload yourself, although Google seems to be working double-time to roll these changes out, so if you are at all uncomfortable with sideloading apps we recommend you just hang tight until the update shows up.
source:
Google Play
;
Droid-Life