Check out the new video advertisement for Google Play
11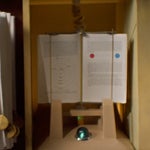 We
told you earlier
about Google's rebranding of their online stores into the Google Play moniker, but if you have a couple minutes you owe it to yourself to check out the video they made. For one thing, it's just a visually stunning video – the use of a sort of Rube Goldberg machine to demo analog versions of their digital services is, in our estimation, one of the more interesting looks we've seen from Google.
It also does a good job of making the case for Google Play. Of course all of the individual services were already available – and specifically all of them were available through the Android Market on your phone – but the video specifically mentions syncing games or other data with your desktop, as well as your tablets, phones, etc. Which leads us to suspect that even larger integration may be on the way perhaps the Google+ games section or the Chrome Web Store will also get integrated in the long run?
The official Google blog also mention the 20K songs worth of storage through
Google Music
(which is now Play Music) – so cloud-based media is being totally integrated into Google Play (along with video) ahead of the launch of their "
streaming home theater
" device that is rumored to launch later this year.
Finally, we wanted to note that the timing of the Google Play announcement probably isn't random - this sort of "sync everywhere" service is probably dependent in part
on the changes Google made to its privacy policy
. Now anywhere you are signed in to your Google account the device will be able to hook you up with all of your services and purchases, because the data is shared across all of their services internally.
Finally, what is that unbranded tablet near the end of the video? Is it the mythical Nexus tablet, or just a generic tablet mockup made for the advertisement? Take a look at the video below and let us know what you think of it:
source:
Google