IDC says tablet market is slowing
5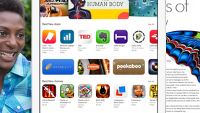 According to researcher IDC, 76.9 million tablets were shipped worldwide during the fourth quarter. Sequentially, the growth amounted to 62.4% from the third quarter number, and 28.2% year-over-year. That figure is down sharply from the year-over-year growth rate of 87.1% that took place in the fourth quarter of 2012 compared with the same period in 2011.
That would seem to indicate a sharp curtailment in growth for the tablet market. For all of 2013, the number of slates shipped came out to 217.1 million, a 50.6% improvement from the 144.2 million shipped in 2012.
The Apple iPad led the way in Q4 of 2013, with 26 million units shipped. That was good enough for a 33.8% share of the tablet market in the quarter. Despite a 13.5% increase in shipments from 2012, Apple's market share declined thanks to a number of faster growing manufacturers. In other words, iPad shipments grew at a slower rate than the overall market.
"It's becoming increasingly clear that markets such as the U.S. are reaching high levels of consumer saturation and while emerging markets continue to show strong growth this has not been enough to sustain the dramatic worldwide growth rates of years past. We expect commercial purchases of tablets to continue to accelerate in mature markets, but softness in the consumer segment—brought about by high penetration rates and increased competition for the consumer dollar—point to a more challenging environment for tablets in 2014 and beyond."
-Tom Mainelli, Research Director, Tablets, IDC
Samsung came in second, having shipped 14.5 million slabs, a huge 85.9% increase over 2012's last three months. The Korean based tech titan owns 18.8% of the global tablet market. Third was Amazon. Despite gussying up the Kindle Fire and making the
Amazon Kindle Fire HDX 8.9
a legitimate challenger to the
Apple iPad Air
, Amazon was the only major tablet producer to ship fewer tablets year-over-year. The number of Kindle Fire units in transit was 5.8 million, down from the prior year's 5.9 million. Perhaps Amazon got too high scale for its clientele. Asus (3.9 million tablets shipped) and Lenovo (3.4 million tablets shipped) were numbers 4 and 5 respectively. Lenovo's total represented a huge increase from the 800,000 units it had shipped in 2012. The 325% gain was attributed to its access to the white box market in its home country, which it supplied with low priced tablets.
The global tablet market is slowing, says IDC
source:
BGR