I am returning my Galaxy Note 10+: here is why
99+
This article may contain personal views and opinion from the author.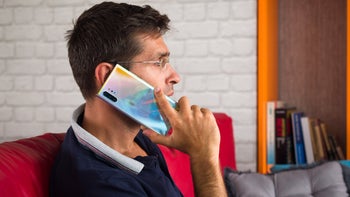 I was among the first people to get the Samsung
Galaxy Note 10+
, even before the official launch, and since then, I have been using the phone as my daily driver for most of the time. Unfortunately, while there is a lot I like about it, there are a couple of things that ruin the experience for me and I have decided to return it.
There is one big reason why I couldn't live with the Note 10+ and a few other things that annoyed me.
But first, let me say that I was just as excited as the next person to try out the glitzy new Note: I find the design to be gorgeous, especially when the glass back hits the light at the right angle and turns into this fantastic, eclectic mixture of colors. I should also warn you that I am not a huge S Pen user, nor am I an artist, and those people definitely don't have much other choice, so the Note should still definitely be at the top of their wish-list.
No other company uses an ultra-sonic in-screen fingerprint reader. There is a reason why
So... why am I returning the Note 10+? One big reason: the fingerprint scanner on the Note 10+ is kind of a... disaster. It's slow, it requires more than one attempt most of the times, and it's just extremely annoying. And I get it: making a fingerprint scanner that is under the screen and that works well is an extremely daunting task, but I don't understand why Samsung persists using the obviously inferior ultrasonic fingerprint technology when rivals like Huawei and OnePlus have shown that the second generation fingerprint reader in phones like the Huawei P30 Pro and the OnePlus 7 Pro is vastly superior.
It has become more of a barrier between me and my device
I should also note that I am using the Note with the
screen protector
that it comes with and it might work better when you remove the screen protector, but I really don't want to risk scratching the screen. Plus, all the other phones that I have just mentioned, I also used with a screen protector on top of the screen and they worked so much better. As it is right now, the fingerprint scanner on the Note 10+ is just too inaccurate and it has become more of a barrier between me and my device.
Other struggles and disappointments
Apart from my struggles with the fingerprint scanner on the Note 10+, there are a few things that I noticed.
1.
The first one is something I mentioned in my review: having such thin bezels might actually be detrimental at times, as you get so many phantom touches when you are using the phone without a case. I used the phone with Samsung's leather case most of the time and it gives you a better grip and helps avoid phantom touches, but if you are using the phone without a case, you would find yourself accidentally tapping a wrong button, skipping a video, or something else you never intended to do. Not a dealbreaker, but certainly quite annoying.
2.
Samsung has improved its interface a great deal recently, but even this new UI feels quite stuttery and nowhere nearly as smooth as a OnePlus phone with that 90-hertz display, or even a Google Pixel. Instead of smooth transitions, you get weird choppy, interrupted animations and the whole thing feels stuttery and just not very refined. This was an issue back in the day with TouchWiz, and while now the whole interface is faster, it still feels rather choppy. Funny enough, I switched to my trusty old OnePlus 5 after using the Note 10+ for a couple of weeks and it felt so much smoother, despite being nearly two years old.
3.
I also lamented the lack of a headphone jack.
Wireless headphones
are great, but they are also one more gadget that you should charge on a daily basis and sometimes having a good old wired headset is just more convenient, especially when you are on the go.
4.
Last, but not least, the
Galaxy Note 10
+ proved to be just too big to comfortably carry in a pocket. The sharp corners make it even worse, so much so that it's impossible to tie your shoes when you have the phone in your pocket.
All of those little inconveniences, coupled with the big disappointment with the fingerprint scanner, led to my decision to ultimately return the Galaxy Note 10+.
There are a few things that I would miss: the gorgeous display, the great camera, the quite good battery life (still not quite as good as on a Huawei P30 Pro or OnePlus 7 Pro), the beautiful styling of the phone, the plentiful on-board storage and a few more. But it's time to move on to a new phone that will get the basics, like the fingerprint scanner, right.