Huawei expected to introduce two refreshed versions of its Watch GT device
5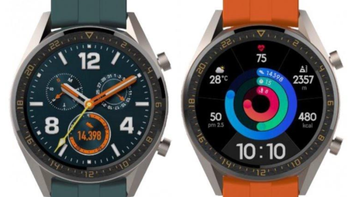 Last year, when Huawei introduced the Mate 20 series, it also unwrapped the Huwaei Watch GT timepiece.
According to WinFuture
, Huawei will unveil refreshed versions of the watch when it announces the
Huawei P30
and
P30 Pro
on March 26th. The two upgraded versions of the device are expected to be named the Huawei Watch GT Active and the Huawei Watch GT Elegant.
The new models will look very much like the original version of the watch, both equipped with the same 1.39-inch OLED display used on the Huawei Watch GT. However, there is a minor color change to the bezels and the casing on the GT Active and GT Elegant. In addition, it would appear that Huawei is switching the batteries from lithium-ion to lithium-polymer, but that has not been confirmed.
Huawei decided to use its own in-house operating system on the Watch GT in lieu of Wear OS, and that seems to be the case again with the refreshed models. We should see both watches support both iOS and Android and monitor the user's heart rate, sleep and workouts. The battery in the new models should outlast those found in other watches, but that is due to the devices' limited functionality. For example, if Huawei hasn't made any changes, the new watches will not support third party apps.
The new report states that the GT Active will be available in Dark Green and Orange (see the image at the top of this article), and the GT Elegant in White and Black. The former will be priced at 249 Euros ($280 USD) and the latter at 229 Euros ($257 USD).