Huawei announces the Ascend Mate 7, a metal-clad 6-inch behemoth with a 4,100mAh battery
39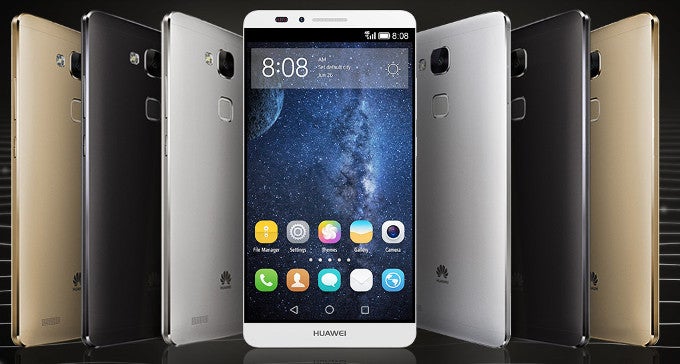 Today at IFA 2014, Huawei announced its new flagship, the long-rumored Ascend Mate 7. Thanks to a number of leaks and information spillages, we had a pretty good idea of what to expect from the manufacturer. Well, the wait is over, as the Ascend Mate 7 is already here, and what a behemoth it is!
Why a behemoth, you may ask. Let's take a look at the dimensions of the device – with a height of 157mm, width of 81mm, and a depth of 7.9mm, the Ascend Mate 7 is bigger, yet thinner than the fresh-out-of-the-oven Samsung Galaxy Note 4. Huawei's new champion is not as light as a feather, too – it tips the scales at the whopping 185g, thanks to its aluminum body. Huawei has also succeeded in creating a pretty bezel-busting smartphone – with a side bezel of just 2.9mm, the Ascend Mate 7 comes with a spectacular screen-to-body ratio of 83%. Whoa.
Endowed with a ginormous 6-inch LTPS (low temperature polysilicon) LCD display with a resolution of 1080 x 1920 pixels, the Ascend comes with a pretty adequate pixel density of 368ppi. Right beneath, a Hisilicon Kirin 925 SoC with "8+1" cores makes the smartphone tick and click. No, that's not a typo – the SoC of the Ascend Mate 7 has four cores, clocked at 1.8GHz, another set of four running at 1.3GHz, and a single one doing its job at 230MHz. This last core is a Tensilica HiFi3 Auto DSP (digital signal processor), which paves the way for high-fidelity, dedicated audio processing. The smartphone also comes with noise-reducing earphones. Good news for the audiophiles.
"Today marks the arrival of our fastest and most compelling big-screen smartphone experience for consumers."
Just as we told you, the Ascend Mate 7 will come in two variants - one with 2GB of RAM and 16GB of storage on board, while the other one will come with 3GB of RAM and 32GB of on-board storage. At the back of the device, one can see the 13MP camera with an f2.0 aperture and a fingerprint scanner right below it. The camera sensor is courtesy of Sony and comes with a 5-lens aspherical system. A 5MP front-facing snapper will aid you in capturing the perfect selfie.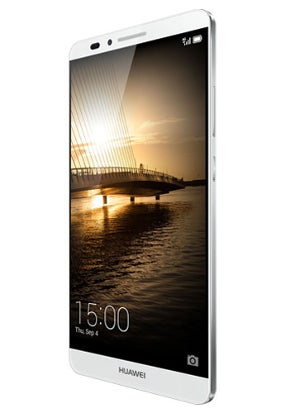 Under the hood of the Mate 7 comfortably lies one of the most impressive hardware features of the Mate 7, its 4,100mAh Li-Polymer battery, which will surely keep the lights running for quite some time. What's more, Huawei has implemented an energy-saving software goodness, the so-called "Ultra power saving", which further improves the energy efficiency when the battery goes below 10%. In the connectivity department, the Ascend Mate 7 is equally impressive, as it comes with support for LTE Cat.6 (LTE Advanced), which paves the way for download speeds of up to 300Mbps. The Huawei Ascend Mate 7 is running Android 4.4 with the manufacturer's own
EMUI 3.0
user interface on top of it.
Huawei touts that the fingerprint scanner on the back of the Mate 7 allows users to unlock the device "80% faster" with just a single touch. Moreover, the manufacturer claims that the sensor comes with a 508PPI ratio - a pretty high level of sensitivity. As per Huawei, you'll be able to make perfect use of the fingerprint sensor even if your finger is wet or you don't quite swipe it correctly. This addresses some of the main concerns and issues most users had with the respective fingerprint scanner in Samsung's and Apple's top-end devices.
As far as pricing and availability are concerned, Huawei says that the variation with 2GB RAM/16GB storage will retail for EUR 499, whereas the 3GB RAM/32GB storage will retail at EUR 599. It will be available in more than 30 countries (some of which are China, Hong Kong, UK, Germany, Italy, France, and Spain) starting Q3 2014, as per Huawei. It will eventually make its way to other, unspecified markets.
Invalid image meta
source:
Huawei