Huawei Watch goes up for pre-order across several markets, priced upward of $387
15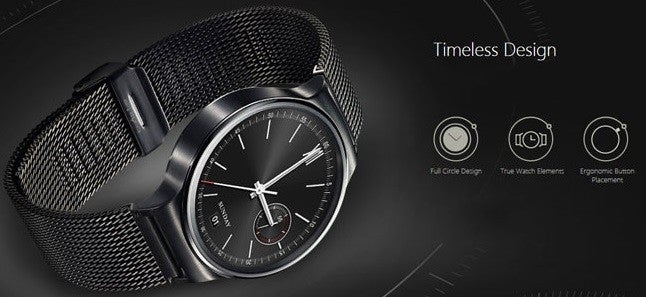 The Huawei Watch is now available to pre-order in parts of Europe, including the United Kingdom, as well as the United States, Canada, Australia and New Zealand.
The smartwatch market is still ticking along, so to speak, despite the ever-present feeling that wrist-worn gadgets may be more of a passing fad than a real game-changer. The launch of the Apple Watch last month has helped to thrust the wearable debate further into the spotlight, and while Apple has managed to shift many more units of its wrist computer than the combined shipment of Android Wear devices throughout 2014, smartwatch skepticism remains the elephant in the room.
Many smartwatches, like the
Moto 360
, have sought to preserve the traditional timepiece in the Digital Age. But while Motorola's first effort may have caught the eye, it hasn't really offered enough to convince users they
need
a smartwatch. The Huawei Watch, which we've already
had some alone time
with, tries so hard to be a mature, sophisticated advance on the Moto 360s and LG G Watch Rounds of yesteryear. Even though it's unquestionably easy on the eye, though, it felt disappointingly cheap during our hands-on at Mobile World Congress, and the fact that Huawei has opted for a premium price tag suggests that, like most Android Wear devices before now, it may struggle to make big sales.
You can pre-order the device from MobileFun in black, silver and gold, although the latter is a tad more expensive due to its leather strap. Customers in the United States can expect to pay $386.99 for the black and silver editions featuring a metal band, while the gold-with-leather-band combo will set you back $451.49. The European prices are €427 ($464) and €498 ($541) respectively, while folks in the UK seeking the Huawei Watch are looking at an outlay of £300 ($460) or £350 ($537), depending on the configuration.
Elsewhere, the Canadian prices are CAD 477 ($383) and CAD 556 ($447); New Zealand-based consumers are looking at NZD 534 ($387) or NZD 618 ($447), while Australians will need to pony up AUD 495 ($382) and AUD 577 ($445) to own the Huawei Watch.
With a 1.4-inch, 400 x 400 AMOLED (286ppi) display, the Huawei Watch also includes a Qualcomm Snapdragon 400 chipset alongside 512MB of RAM. Tucked away under the hood, there's also a heart rate sensor, barometer, and myriad other sensors that will throw the device in direct competition with the likes of the Apple Watch when it launches.
Whenever that may be.
There's no word on when the device will drop for now, but we'll keep you updated as and when we hear more.