How to stream large pictures, videos, or documents between Android and iOS devices
15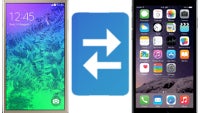 File sharing – a simple concept that is a bit shaky even in our day. And the problem isn't caused by technogy not being advanced enough – oh, no – it usually rears its ugly head when you try to share files across platforms. Sending pictures from your Android handset to another device, running on Google's OS is a simple enough task – just do it over Bluetooth or Wi-Fi direct. However, try to send those party snaps to your friend's iPhone and things can easily become a chore. Different ecosystems still don't play nicely and, sure enough, that's a business decision – it's the small things that sway the customer's decision on whether to buy or stay with a manufacturer's products.
Sure enough – there are ways. Email is an often used solution, but when it comes to clips or bulks of pictures – a size constriction bars the users from using it. Cloud storage is another one – services like Dropbox, Google Drive, Microsoft OneDrive, and others will allow the user to send hyperlinks that lead to the files they wish to share. But keeping those clouds clean and organized after some months of sharing is done could become a hectic ordeal.
But fear not! App and service developers are becoming more and more inventive, and nowadays, there is a way to simply stream the pictures and videos that you have on your phone or tablet directly to another mobile device – regardless of whether it's an Android or iOS one. Check the slideshow below for more information.