How to remove the Google Experience launcher on the Nexus 5 and replace it with the Nexus 4 launcher
15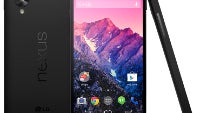 Despite some of the new features that it brings to the
Nexus 5
, not everyone is enthralled with the Google Experience launcher on the Nexus 5, even if Google's Matias Duarte called it "
the single most exciting thing for Nexus 5
". If you're a big fan of Google Now, you might appreciate the ability to access information from Google Now right from your homescreen. And you can even perform a voice search from any homescreen by saying "Ok Google". But not everyone is excited about the launcher.
While the Google Experience launcher comes with Android 4.4 on the Nexus 5, for now
it is an exclusive for the latest stock Android handset
. But there is a way to painlessly remove it from your Nexus 5. Just keep in mind that the Google Now integration with the homescreen will disappear when the old, familiar launcher replaces the one that comes out of the box with the Nexus 5. Same for the translucent status bar.
To remove the Google launcher from the Nexus 5, go to Settings> Security. Click on the unknown sources box.
Click here
to load the
Nexus 4
launcher on your phone or computer.
If you downloaded the file on your PC, the next step is to use the microUSB charging cable and hook up your Nexus 5 to the computer. From the PC, double click on the Nexus 5 icon and you should be at internal storage. Drag the file you downloaded into the root of the storage. Exit and disconnect the Nexus 5 from your PC. Using whichever file manager you want, find the file on the phone, tap to install, and you're done.
If you downloaded the Nexus 4 launcher on your Nexus 5, go to the app drawer and go to the Downloads app. The file should be there. Click on it to install and you're done. Don't select the launcher as the default so this way you can go back to using the Google Experience launcher once you start missing it.
source:
IntoMobile