How to record screen video of a Windows Phone 8 device
4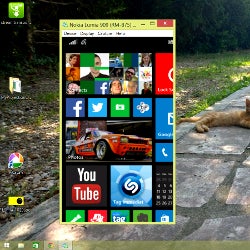 Well, if you happen to have a Nokia Lumia, or another Windows Phone gear, Microsoft has released the so-called Project My Screen program, which mirrors your phone's screen on your computer via a simple USB cable connection. Sounds pretty handy, and it is indeed so, but there is no easy screen recording function built in. The forces of nature don't like vacuum, though, so this omission was quickly remedied by reverse-engineering Microsoft's screen mirroring app over at XDA-Devs. Here's what to do, if you want to document the actions you do on your WP device display:
2. Extract the ZIP into a "WinPhoneProjection-master" folder, then extract the content of the MyProjectionClient archive into another folder;
3. Hook up your handset to your computer via the microUSB cable, and fire up the MyProjectionClient executive. You should be able to see your phone when you click on the "Device" menu in the opened client, and tell the software what to record. At this time, a prompt on your Windows Phone device will appear, asking you for permission to record the phone's screen. Tap "Yes" on the phone's prompt;
4. If, for some reason, the projection client doesn't recognize your phone, unplug the device, and go to your Windows PC Device Manager. Click on the View drop-down at the top of the window, then click on "Show Hidden Devices". List the "Universal Serial Bus Devices" menu, and delete every Windows Phone device reference there, such as "Nokia Lumia 920 (RM-820))", and so on. If the option "Delete driver software for this device" is available, by all means check this one as well;
5. Go into the Settings app on your phone and to the "project my screen" option, then connect your handset to your computer. Open the Project My Screen client on your computer, and press "Yes" on your phone's screen prompt. As a warning, the engineered client has issues with full recording of 1080p displays for now, which would hopefully be remedied at some point. You can also set the parameters like video output format and such, though we recommend to stick with MPEG-4 if you don't have a more powerful machine.