How to install a keyboard on the iPhone 6 and iPhone 6 Plus (iOS 8 tutorial)
5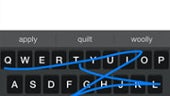 iOS 8 brings a great new option to the iPhone and iPad mobile operating system - the capability to add third-party keyboards and finally add some variety and gesture typing capabilities to the platform.
Now, most of the new keyboards are out, but how do you install a new keyboard on iOS 8? And how do you change to that new keyboard?
It's a very simple process, so just stick with us.
First, of course, we should note that you download the keyboards as any other app from the App Store. The slightly trickier part is how to enable the new iOS 8 third-party keyboard you just installed. Stay with us below as we walk you through this in a few simple steps.
Note:

This tutorial applies to all iOS 8 devices including the iPhone 6, iPhone 6 Plus, iPhone 5s, iPhone 5c, iPhone 5, as well as the Apple iPad Air 2, iPad mini with Retina display, etc.