How to insert a SIM card in your Apple iPhone 8 and iPhone 8 Plus
40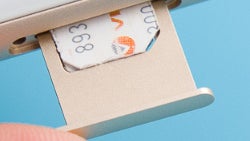 So you just got a brand new iPhone... what do you do first? Where is the iPhone 8 sim card slot?
Well, plug in your SIM card, of course. It's a simple task, but if you're switching from an old phone, you might not be used to the new nano SIM card format or the SIM tray where you have to insert that SIM card.
iPhone 8 SIM card: How to put one
First, you'd need to make sure that you have the right size SIM card.
Since you need the smallest, nano-sized SIM card you can go to a carrier store where customer reps will cut it for you, or you can do it yourself following our simple
step-by-step guide here
.
Once you have the right size SIM card, you need a SIM ejector tool (a paperclip or a safety pin would do as well). With all those tools at hand, you're ready to get started. Follow the steps below to change or insert a new SIM card in your iPhone 8 and iPhone 8 Plus (you use the same technique to insert a SIM card in the iPhone 7, iPhone 7 Plus, iPhone 6s, iPhone 6s Plus, iPhone 6 and 6 Plus, iPhone SE and earlier iPhones).