How to improve your iPhone X battery life: 3 quick and easy tips and tricks
22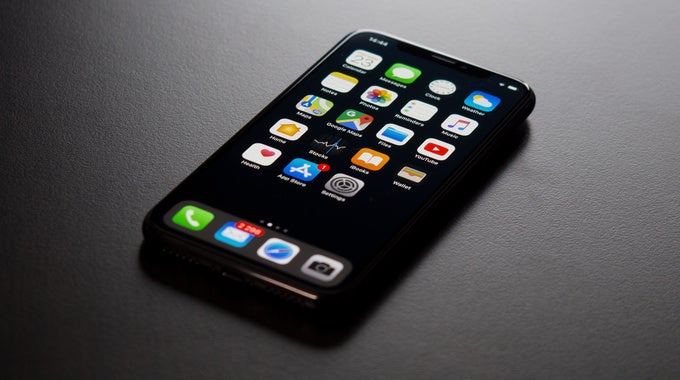 Battery charge is one of the many things we'll never have enough of, it seems. Even today's top phones can barely get us through two days of use, and nothing leads us to believe that the situation is to improve anytime soon. Hardly a surprise, our articles with tips and tricks on improving smartphone battery life draw quite a lot of attention. Articles like the one you've landed on, dedicated to the fancy, flashy
iPhone X
.
So, how do you improve your iPhone X battery life? Well, you cannot swap the stock battery cell for one with a larger capacity, but you
can
control how its charge is being consumed. As the case is with every other phone, the display is one of your iPhone's most demanding components, and we're about to give you a handful of tips on how to limit its power draw.
But first, a quick refresher on how modern displays work. On one hand we have LCD, which is still the dominating smartphone screen technology. Basically speaking, an LCD panel uses a white backlight, and every pixel acts as a filter in the light's way, letting through only the color it is instructed to display. This backlight is constantly lit, even when the whole screen is showing the color black. With OLED screens, on the other hand, every pixel produces its own light, hence the dimmer a pixel is, the less power it consumes. As you might recall, the iPhone X is the first iPhone with an OLED display. Therefore, the greater the presence of black on the iPhone X's display, the greater the power savings.
Tip #1: Change your wallpaper
Taking advantage of the power-saving potential of the iPhone X's OLED display is fairly easy. For starters, you can switch to a black wallpaper, such as the one that already comes pre-loaded on your iPhone X. Using a power measuring tool, we detected a 20% decrease in total power use when we replaced the iPhone X's default wallpaper with the black one. The result was obtained at 50% brightness without altering the brightness level between individual measurements.
Alas, an entirely black wallpaper is kind of boring to look at. The good news is that you can still enjoy some power savings if you choose a wallpaper that's predominantly dark. In fact, we have several great selections of
wallpapers for OLED displays
, with images that both look great and save power along the way.
Tip #2: Use dark mode in apps that have it
The iOS interface is bright, lively and colorful – this particular aspect of Apple's software experience isn't customizable. Apps, however, can follow any color scheme built into them by their developers. There's a number of popular apps that go for a darker look. Apps like Spotify, for instance, or iOS's own Clock app. Other apps give you a dark mode as an option. For example, Twitter has a Night Mode built into it, available from the Settings menu. So do Reddit, Wikipedia, and the cool Mini Metro game. Also, Amazon Kindle and Apple iBooks can display white text against a black background instead of the default black-on-white approach. So if you find yourself using a particular app all the time, check if it has a dark theme as option, or see if an alternative to that app has one.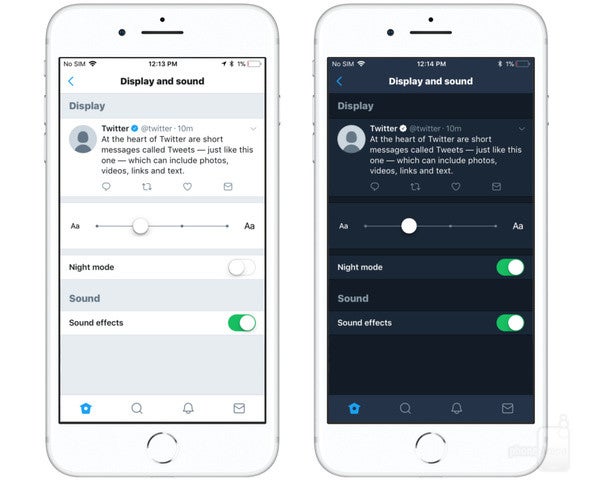 Twitter for iOS is an example of an app with Night Mode built in
Tip #3: Use the "hidden dark mode" in iOS
In its current state, iOS does not have a dark mode, a dark theme, or a night mode, hidden or not. However, many refer to the platform's built in Smart Invert feature as such. When active, this mode inverts the colors of UI elements, yet leaves certain graphics like photos or videos unchanged. And since iOS's interface is dominated by whites and bright colors, inverting them leaves you with a "dark theme" of sorts across apps and iOS itself, thus saving you battery. Smart Invert can be found in the Settings menu, under Accessibility > Display accommodations.
Frankly, we are not in favor of using this mode all the time, simply because it takes away from the iOS experience. But if you're in a situation where you know you won't be near a charger anytime soon – during a flight or a long commute, for example – iOS's "dark mode" could be of use. Now go read our article on
how to activate Smart Invert dark interface mode on your iPhone X
.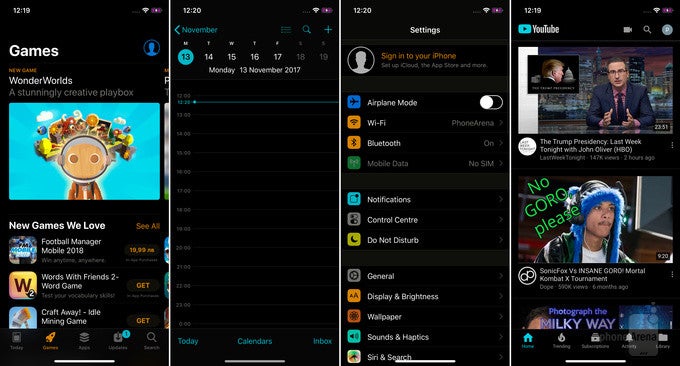 Smart Invert mode in iOS inverts colors of UI elements, but leaves pictures and videos intact
More on iPhone X:
Recommended Stories