How to fix your Samsung Galaxy Note 4's RAM management problems [root]
62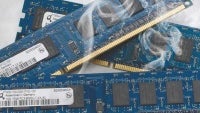 The Samsung Galaxy S6 & S6 edge became notorious for an
aggressive RAM management algorithm
that saw Sammy's greatest kill background apps and processes mere seconds after you switch to another app. They don't deliver the multitasking goods quite like 3GB RAM handsets are expected to, do they?
Unfortunately, the older-but-still-holding-up Galaxy Note 4 has been frustrating users in much the same way, with the issue becoming, well,
noteable
, after the device was hit by the Android 5.0 update.
While Samsung is aware of the problem, it
still hasn't addressed it in software updates
. Word on the street is that a fix will be put out sometime after the Galaxy Note 5 and Galaxy S6 Edge+ are revealed on August 13. But, as most of the affected handsets' owners are stuck waiting, renegade users and developers have discovered a way to improve their devices' RAM management by modifying values in Android's build.prop system file.
The fix, which works on both the Snapdragon and Exynos chipset variants of the Note 4, largely gets rid of the problems and isn't too complicated to apply, but it still demands that you root your phablet. If you haven't done that yet, and voiding your warranty isn't a problem,
consider using KingRoot
, which has to be the best one-tap root app out there and makes the process a breeze! When your Note 4 is successfully rooted, proceed by following the instructions in the slideshow below.
There are two ways to approach the problem. The first involves editing your phone's build.prop file, and the other is about flashing a .zip file through a custom recovery. If you already installed a custom recovery after rooting, the second way is arguably easier, although the first is certainly more interesting! If you want to, skip directly to slide #4 for the .zip flash method.