How to bring the Note 8's App Pair split-screen shortcuts to any Android phone
5
Samsung popularized the split-screen multitasking on Android with its popular
Multi-window
mode before Google went out and appropriated the feature, integrating it into stock Android builds with the Nougat update. Debuting on the Note series, Multi-window was in its exact place on these big-screen phones with S Pen stylus that could resize the windows and pinpoint actions to take with precision better than what your fat fingers were capable of.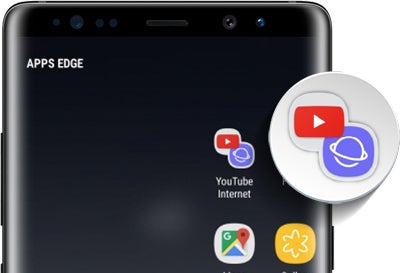 App Pair shortcut on the Galaxy Note 8
With the
Note 8
, Samsung one-upped stock Android again, and introduced App Pair - the ability to make custom shortcuts for two apps of your choosing to be opened quickly side by side via the App Edge panel. You can, for instance, open the YouTube app and the browser, or your favorite messenger and an S Pen picture editing app with one tap only, instead of fumbling with opening them one by one, then splitting the screen to fit them.
That's a pretty svelte idea, but, unfortunately, it's only available on the Note 8, so how can you replicate it on your own Android? Here's the gist, though it works only on phones with Nougat and above, for obvious reasons:
1.
Download
and install the Split-Screen Creator ($0.99) app from Google Play;
2. Open it, select the shortcut, and choose which two apps you want to open in split-screen mode at once;
3. Tap on the resulting shortcut to launch the two apps you chose, and have them immediately available in windowed mode.