Hot off the press update on Motorola DROID Android 2.1 upgrade
This article contains unofficial information.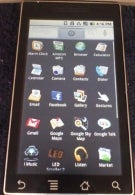 Yesterday, we
told you
to expect Android
2.1
to get pushed out via an OTA upgrade for 250,000 Motorola DROID units. Now, we have some further breakdown of the information, thanks to a tipster who passed the info on to Android Central. Starting today (Thursday) at 12 noon Eastern time, 1,000 DROID owners will get Android 2.1. If there are no problems, another 9,000 will get the upgrade at 11:59 pm Eastern time. So that leaves-what-about 995,000 units left? After a 24 hour waiting period to make sure that all is going well, 200,000 more DROID models will get the OTA upgrade on Saturday. After that, another 200,000 goes out and that is repeated until all DROID owners are pinching away in the browser. While this might seem frustrating to owners of the 2009 Time Magazine Gadget of The Year, staggering the upgrade this way has the advantage of more easily catching and solving problems if something should go wrong. By this time next week, all DROID owners should have their upgrade at last.
Motorola DROID Specifications
|
Review
source:
AndroidCentral