Honor 8 scores big on our battery life test: results compared with OnePlus 3T, iPhone and Galaxy
16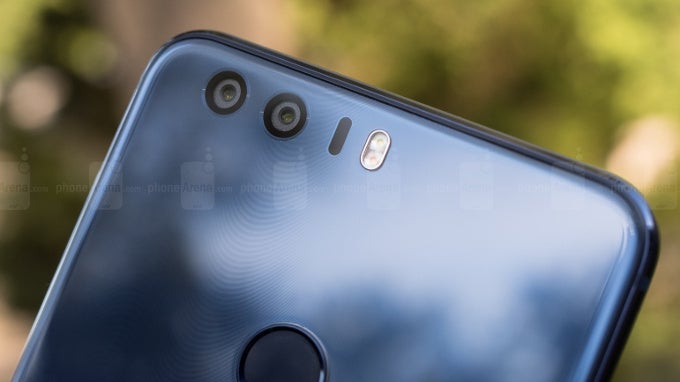 The
Honor 8
is one of the most popular devices in a new category: the so called "$400 flagships".
With a stunning glass design, a pocketable and easily manageable 5.2-inch form factor, it stands out in a crowd. It also features a dual-camera system that makes it possible to adjust focus on your images after you take them, and add an extra layer of blur to backgrounds to make your objects pop. This effect is similar to the
iPhone 7
Plus's Portrait Mode (admittedly, it does not quite reach its accuracy). The lucrative $400 price of the Honor 8, much less than the price of flagships the ranks of Apple iPhones and Google Pixels, is another thing to keep in mind. It's made possible by the fact that the phone is sold on the web, and this saves a lot of the staffing and marketing expenses related to selling other phones.
The thing that we want to focus on here, though, is battery life. Huawei phones (Honor is a sub-brand of Huawei) are known for their aggressive app management that allows the company to squeeze the most out of the battery. Is this the case with the
Honor 8
and its 3,000 mAh battery?
Aggressive app management allows phones to squeeze the most out of their batteries
We put the Honor 8 battery through our battery life tests to see how it holds up and here is what we found out: this is one of the longest lasting phones on the market currently. On our custom test, where all phones have their displays set at an equal brightness level of 200 nits (a level comfortable for indoor use), the Honor 8 scored an impressive 9 hours and 7 minutes. This compares to just 5 hours and 41 minutes on the
OnePlus 3T
, for example, and that phone is considered a decent performer.
In real life, we have been using the Honor 8 for a long time and we consistently get around two days on a single charge. Heavier use would usually reduce battery life to around a day and a half, while scarcer use can lead to more than two days on a single charge. This is great in our books.
Another interesting aspect of a phone's battery situation is the time it takes to recharge a depleted battery from 0 to 100%. Having quick charging on board can alleviate a lot of battery pains and while the Honor 8 is not among the fastest phones, it is certainly not too far away.
It took the phone just around 1 hour and 40 minutes to have its battery fully charged using the in-the-box wall charger. Among mainstream phones and its rivals only the OnePlus 3T and Samsung's
Galaxy S7
were faster in charging speeds.
Overall, we're impressed with the battery life of the Honor 8. It's one of the longest-lasting "$400 flagships" and coupled with its impressive design, gives it a competitive edge in an increasingly tough market.