Some Android users can add a shortcut app on their home screen for Google Dictionary
0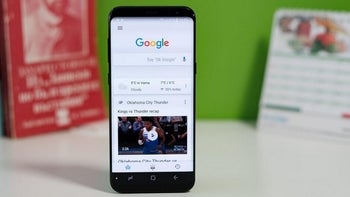 If you use Google Search as a dictionary, you might be interested in creating a shortcut app that will open Google's Dictionary tool on-demand from your home screen.
9to5Google noted
that some Android users who used Search to look up the definitions of some words or typed in "Dictionary" were given the opportunity to add a dictionary shortcut. If you click on "Add," the shortcut will appear on the home screen. The icon contains the image of a dictionary with "Aa" on the cover and the Google Search icon in the right corner.
Right now, you need to have the latest version of the Google Search beta app installed on your Android phone to receive the option to install the shortcut app. Tapping on the app will take you to Google's Dictionary tool; the latter has a long rectangular search bar and underneath you can horizontally scroll through previous terms you've sought a definition for. When you type in a new word to look up, the definition appears under the search bar and also includes the origin of the word. Scroll down and you'll find an option to translate the word you had defined into a large number of different languages.
At the bottom of the page is a graph showing how often this particular word was used over time. The word that we used in the accompanying screenshots was
smartphone
, and as you might expect the graph showed no usage of the word until it took off just prior to 2010.
If you don't want to add a shortcut app to Google's Dictionary tool, you can still access it. All you need to do is open the Google Search app and search for "Dictionary."