Here's how your Samsung device can (potentially) save your life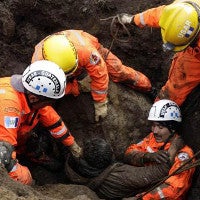 Every day, each one of us, regardless of race, gender, age, or location, is under the constant peril that something unfortunate might happen to them, God forbid. As a large number of the world's population is already sporting a mobile phone in their pockets, it becomes one of the few gadgets that might turn out to be extremely useful in case of emergency.
Samsung, for example, has been endowing most of its top-tier portfolio with a handy Emergency Mode, which can potentially save aid in a troublesome situation. The Samsung Galaxy S5, as well as the
Galaxy Note 4
and the Note
Edge
, sport this functionality, and should experience the necessity to contact a trusted contact in case of emergency, it can be of great use.
The gist of Samsung's Emergency Mode is that it's a further toned-down Ultra Power Saving Mode - it employs a similar minimal home screen layout and gives you access to a few basic apps, such as Phone, Internet, and that's about it. As we already said, you are also allowed to send a text message with your current location; you can also easily turn your camera's flash into a flashlight, and enable a loud emergency alarm.