Here's how Microsoft kept the Surface tablet a secret
13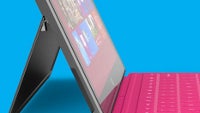 The
Microsoft Surface
is a revolutionary device not just because it is a new tablet running on Windows 8 and sharing the kernel of a full-blown Windows 8, but because... it is made by Microsoft. Redmond's entry into hardware is something not many expected and what's even more interesting, there were practically no rumors about the Surface right before its launch. How did Microsoft manage to keep it all under cover?
After last week we learned to what extremes Samsung went to keep the
Galaxy S III a secret
, now Microsoft shows how hard it really is to develop a product for months while keeping it away from the public's eye.
First, we should mention that Microsoft already has its own product design studio filled with 3D printers and all the technology needed for quick and effective prototyping. It's called the Garage, but it wasn't secretive enough for Redmond. When it all started with the Surface development, the whole team worked in what Microsoft's Stevie Bathiche calls underground bunker with no windows.
That's what it takes to set the stage for the extremely secretive Surface. Only later the team moved to a building that actually had buildings, but with security you'd usually see at bank vaults - airlock-like chained doors where the first has to close before the second opens so you're completely sure no one is following you.
And development and prototyping went on and on under that very same silence. This allowed the team to focus its attention on the tiny details. A good example is the effort the Surface team put solely on the snapping sound when the keyboard joins the tablet. It's surprisingly solid given the thin size of it and that's deliberate, so you get really confident that it fits securely.
So at least in terms of security, Microsoft is definitely going Apple-like security, and that's great, don't you think? If only it managed to close the gap between the announcement and actual launch to mere days as well...