Here's every Pokemon Go Easter egg in one video
2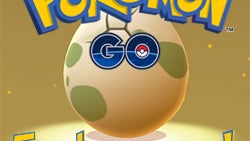 After breaking
countless records
on both the App Store and Google Play Store, after beating every other game and app in number of downloads this year, after becoming the
biggest mobile sensation
in recent memory,
Pokemon Go's popularity is apparently waning
. At this point, Niantic will either add more content to the game, thus maintaining the interest of players, or it will let it fade into fad territory. Either way, since Pokemon Go is at this crucial junction in its existence, it is good a time to look back at all the secrets uncovered by fans of the game.
Committed fans have been poking around the game's code for quite a while now and have uncovered dozens of Easter eggs and curious secrets hidden within. Not all of them required "hacking", of course, as many of the surprises simply had to be uncovered by traditional means and a touch of luck. So, wonder how many Easter eggs there are in Pokemon Go? Well, we can't know for sure, but here is a video showing all of the confirmed secrets that can be found in the game:
Wow, that was lengthy! Have you found some of these Easter eggs by yourself? For that matter, did you get hooked on Pokemon Go, and if yes – are you still playing the game?
via:
BGR
Recommended Stories