Here is the Nokia C1 - real-life images of Nokia's first real Android smartphone appear
36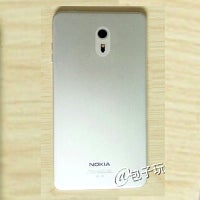 Although Nokia is prohibited from making its own smartphones until 2016 or so (due to the acquisition deal with Microsoft), the Finland-based former market leader is not barred from putting its name on other kinds of mobile devices. That's the reason why we got a little bit surprised by the Android-powered tablet, the
Nokia N1
, which clearly showed the company's intention of launching a crusade onto the Android scene.
The rumor mill has been constantly feeding us with speculations that Nokia might have an Android-powered smartphone running stock Android with its own Z Launcher atop - the Nokia C1. It already appeared in a few promising renders
a dew days ago
, and these seem to be mostly on point with the two brand new real-life images that just popped up in the wild.
What these show us is a sleek device with seemingly-promising screen-to-body size ratio and on-screen navigation buttons that is running Android. Design-wise, it bears a lot of similarities with the Nokia N1 tablet, but in a smaller form factor, naturally.
We expect the device to have the following specs: a 5-inch display, an Intel Atom chipset, paired with 2 GB of RAM, and an 8 MP camera, coupled with a 5 MP front camera. As you can see, it won't probably be a high-end device, but merely an entry-level mid-range one.
There is zero info on its potential announcement and release date just yet. As the Nokia N1 got unveiled on November 18, 2014, but got out on the market a couple of months later on, we don't rule out the possibility that Nokia could announce its return sometime in one or two months' time.
Disclaimer
: Upon closer inspection, we believe that the images right below are renders.
Are you excited already?