Nokia's first true Android phone, the C1, leaks out in pretty renders
52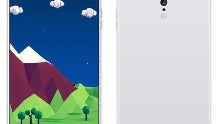 This is a concept render of a purported Nokia C1 Android phone, based on rumors and leaked schematics.
Nokia's smartphone probation, as per the contract with Microsoft, will soon be running out, and the company will soon be legally able to make an Android handset. It is not wasting time designing it, either, it seems. After the interesting
N1
Android tablet, it might release a
Nokia C1
- its first Android smartphone from Nokia's new era. We
saw it leaked back in December
in some crude concept schematics, and now these have been fleshed out in a concept render by graphics artist Kim Wayne from all sides.
First off, the Nokia C1 is shown as a rather thin machine, with what looks like a fine screen-to-body ratio. This usually indicates a unibody design, and that's what the sources claim the C1 will have indeed. To those looking for some major specs spill, the Nokia C1 isn't a flagship, but rather a good-looking entry level Android, with a 5.0-inch HD display, an Intel Atom chipset, paired with 2 GB of RAM, and an 8 MP camera, coupled with a 5 MP front camera.
Nothing really exciting, but the sheer Nokia nostalgia might make an alleged C1 a hit when it lands, if it is reasonably priced, no matter if it looks like the concept render here or not. As to when will it be announced and released, there's no info just yet, though we certainly hope it will be in time for
Android's 6.0 Marshmallow
release in the fall.