Here is how to stop advertisers from tracking you in iOS 6
9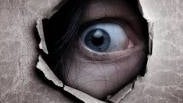 The privacy of smartphone users has been quite an issue over the past years. We've reported of
apps supposedly collecting personal data without permission
,
tracking the user's whereabouts
using built-in system features, and who could forget the
Carrier IQ pandemonium
?
Today, Apple is under the spotlight as it has been revealed that iOS 6 collects user data. In fact, some say that the IFA system (short for "identifier for advertisers") is doing that more efficiently than ever. There is no cause for alarm as the information does not reveal your identity to anyone. It is used by advertisers to efficiently provide ads (as far as we know) - ads that are relevant to the user's location and to their interests. However, what's interesting about the feature is that opting out is not as easy as one might think.
To start, IFA is turned on by default, so some people will just leave it like that. Those who wish to disable it, however, will not find the off switch in the Privacy tab in the Settings menu. That would have been too obvious, right? Instead, one has to open the General tab and then go to About. In the Advertising section, there is a "Limit Ad Tracking" toggle switch, which has to be turned
ON
if a user wants the tracking feature to be
OFF
. And that is how you make advertisers sad.
source:
Business Insider
via
Textually