Here are the most compact phones for their screen size (infographic)
29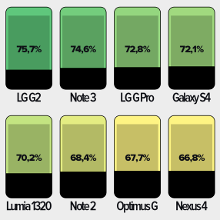 The screen-to-phone-size metric is perhaps the most viable measure how compact your phone or tablet really is, relative to its display diagonal, or in other words which one offers the largest screen for your now inevitable thumb-stretching.
You can have a device with large, 5.5" panel, like the
Note 3 Neo
, and yet it it would be hardly larger overall than the
Xperia Z1
5-incher, precisely because there is a lot of top and bottom bezel on Sony's flagship. Needless to say we want the largest possible display stuffed in the most compact chassis possible, so check out the infographic below, and marvel at who does it best (hint: the plastic ones).
For some reason the infographic skips on the
Xperia ZL
, which, according to Sony, h
ad the best screen-to-phone-size ratio of 75.84% as of January 2013
. This number, as you can see, is larger than the 75.7% of the
LG G2
, so it should have been the winner, considering that we have other older handsets included. We would also add the
Alcatel OneTouch Hero
6-incher into the mix, as that one is way more compact than the 6"
Lumia 1520
, for instance, at number 7 here, but the source obviously aimed to calculate more popular handsets in this particular infographic.